Our Infant Nativity December 2021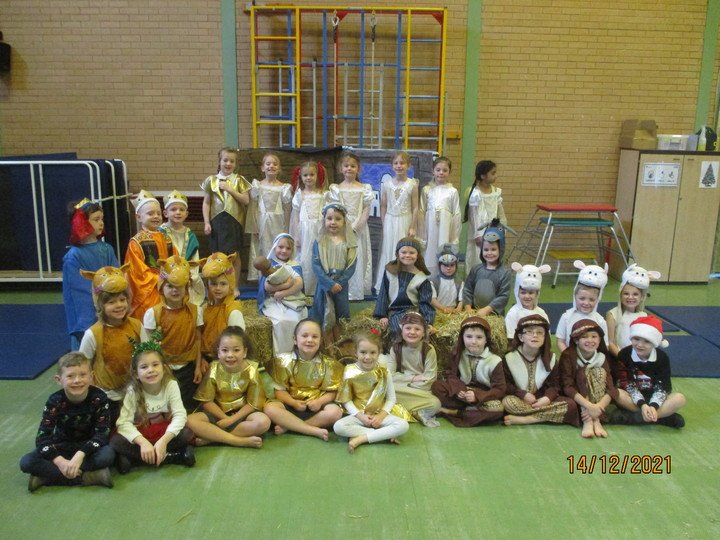 Congratulations to all of Class 2 who performed 'The First Christmas' so beautifully, both in church and in the school hall. They learnt all the words, acted, sang and danced so well.
Filming a tour of our school December 2021
Our headboy and headgirl have had a great time with a professional film crew, filming a virtual tour of our school, as one of our parents is a TV producer.
We look forward to sharing the virtual tour when it is completed.
Odd Socks Day November 2021
The week beginning 15th November is Anti-bullying week. This year the theme of anti-bullying week 'One Kind Word'. Kindness is more important today than it has ever been. The isolation of the last year has underlined how little acts of consideration can break down barriers and brighten the lives of the people around us.
We started our anti-bullying week with 'Odd Socks Day'. It's a great way to celebrate what makes us all unique. Below are some photos of our children during 'Odd Socks Day'!
Remembrance Sunday November 2021
On Sunday 13th November, our headboy and headgirl represented our school. They laid a wreath at Barrowford Memorial Park as part of Remembrance Sunday's memorial service at 12 noon.
Poetry Recital Day October 2021
We enjoyed learning poems to perform in our special poetry recital day. Our Chair of Governors, Cath Ogden was our special guest judge. We chose winners from Classes 2, 3 and 4 and the overall winners were Class 4
A Christmas Prayer Space
Our children in Class 2 have created a beautiful place for prayer and worship in our outdoor prayer space. All our children from all classes are visiting this special place for prayer over the next few days.
Holy Jesus,
by being born one of us,
and lying humbly in a manger,
you show how much God loves the world.
Let the light of your love always shine in our hearts,
until we reach our home in heaven,
and see you on your throne of glory.
Amen.
We are delighted to show you our new library which was fitted at the very beginning of this term. The old has been cleared away (including many, many old books) and we are so pleased with the result. We have also been able to recycle the old library shelves and they are now being used around the school.
We would like to say an enormous thank you to all our parents and FOSTS for raising a stunning £3K towards the cost of the library. The remainder of the money came from our Mary Pritchard fund. This fund is to be used for the benefit of all our children. I am sure you will agree that the money has been used appropriately and reflects the original spirit of the Mary Pritchard donation.
FOSTS have also donated a further £1000 to spend on new books. Now that the library has been organised and our books are back on the shelves, we can begin to see where the gaps are.
The teachers will be planning how we will access the library and the children can start to borrow books. When restrictions ease, we would like to plan an official opening.
Thank you again.
Rock Bottom! (KS2 production 2019)
The children from key stage 2 put on an amazing performance of the musical 'Rock Bottom' at the Ace Centre on 9th and 10th July. The show was full of amazing dancing, singing and groan inducing jokes. The show was a great hit with all the parents and friends who attended on both nights and the children should be very proud of how they performed. Here is a selection of highlights from the show.
Sports Day 2019
Another beautiful day for St Thomas' sports day with lots of organised activities to suit all. A day for celebration, lots of fun was had and races were run. We enjoyed showing off our skills with a range of events and worked within a team. It was fantastic to see the teamwork on display and the positive and encouraging attitudes of the Year 5/6 children from each team were a real credit. The individual races were fiercely competitive, especially the parents races! Well done to all who took part and achieved their very best.
Confirmation
On Sunday 5th May, many of our Year 6 pupils were confirmed in a very special service led by the Bishop of Burnley, Bishop Philip at St Thomas' church, Barrowford. During the service, Bishop Philip laid his hands on the children's heads and asked God's Holy Spirit to give them the strength and commitment to live God's way for the rest of their lives.
We were so happy to see our wonderful Y6 children affirming the promises made for them during baptism and committing their lives to following Jesus Christ. The church was extremely full of friends and family, as well as the local Christian community, who all promised to support and pray for the children.
Confirm, O Lord, your servant with your Holy Spirit.
Amen.
Barrowford Treasure Trail
10 of our Y5 pupils were involved in creating a Treasure Trail of Barrowford Village alongside pupils from Barrowford Primary School. To begin with, our Y5 pupils visited Downham Village to trial a Treasure Trail which has already been written. They then visited Barrowford Village on a few occasions alongside our staff to plan a Treasure Trail for our own town. The Treasure Trail has now been completed and is available in school and in Barrowford's Tourist information. Well done to all!